Innocent Witches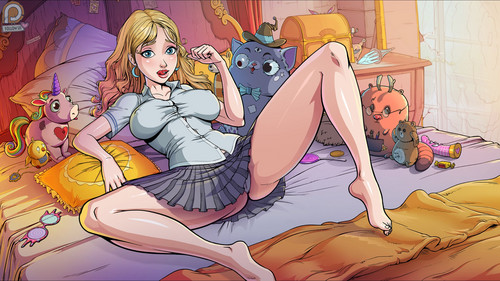 Changelog since 0.4.1F
https://www.patreon.com/posts/0-5-1b-33107325

0.5.1B
1. Fixed a bunch of critical bugs
2. Fixed other non-critical bugs
3. Changed the version of the game (saves made in 0.5B won't work)
0.5B
1.Act 2 begins! (there are several additions in act 1 chapter 5 as well)
2.New scene with main girl (these scenes are on light path for now)
3.Dark path can now allow you to suspend Hermione and Daphne as well
4.Drinking scene bonus for Hermione and Daphne added
5.Art added for Hermione and Susan interactions with Markus tutoring
6.Added Christmas decorations for Marcus' office! (better late than never)
7.Updated idles for Nola and Ginny
8.Ginny's scene was updated
9.Changing room added (WIP, only Daphne is partially added at the moment)
10.New commissar scenes with all girls
11.New random interactions with portraits (WIP, may be broken in pre-release)
12.Dark path continues up to our next minigame which is still WIP (sorry)
13.Memories were added for all girls
14.Changes to Daphne Bathwater event
15.Many quality of life improvements and additions
16.Fixed a multitude of bugs
17.Added new bugs
0.5A
1.Added new manipulation abilities (both dark and light).
2.Added plot, ability to wear diadem.
3.Added lock mechanism (requirement for sex scenes).
4.Added new scene with a main girl!
5.Many requirements for said scene.
6.Redesigned the screen that pops up when error happens to be more user-friendly.
7.Added a way to get more memory fragments for Sonya (can be accessed via her menu).
8.Added early stages of tutoring, light path is fleshed out partially, for 1 girl.
9.Dark path is not complete yet.
10.Added memories, you can replay scenes (around 80% of them at the moment). Some of them have additional bonus content.
11.Added poses for manipulation scenes for future releases.
12.Increased the amount of galleons which Marcus can get (advance the plot to unlock this).
13.Fixed bugs.
14.Added bugs.
15.Started working on the next scene with one of the main girls!
Files
Innocent_Witches-0.5.1B-pc.zip
770 MB
Jan 14, 2020
Innocent_Witches-0.5.1B-mac.zip
753 MB
Jan 14, 2020
innocent.witches-0.5.1b.apk
765 MB
Jan 14, 2020